Brianna Croteau
Details

Last Updated: 06 April 2023

06 April 2023

Hits: 22

22
There was a rule in the Croteau household that if you wanted help getting your first car, you had to learn how to drive with a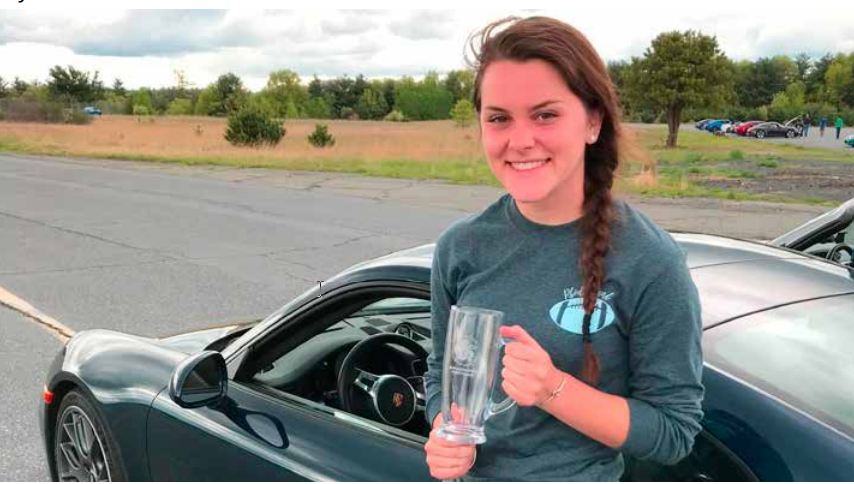 manual transmission. As a result, the first car Brianna owned was a standard shift and she has been driving one ever since. Learning right from the beginning gave her a certain sense of confidence and pride in her capabilities. She said "I first thought this was a silly rule to have, but I learned to be grateful for it. I grew to love driving a manual so much that my everyday car now [is], and I anticipate for the rest of my life, will be a manual." According to her dad, Jeff, he had two reasons for this rule: 1) less chance of them being on the phone if they had to shift the transmission and 2) it was less likely that other people would ask to borrow the car.
Brianna began attending SCCA autocross events with her dad, in 2015 when she was 18. At first she drove her daily driver, a 2012 Hyundai Veloster and later the 911 (991) that her dad bought. She developed a love of driving as she developed a greater understanding of how a car operates and at the same time, learned how to push the car to its limits and still maintain control. The 2nd PCA autocross she attended, she won the Novice category. A few years later the two of them were introduced to track events. Her dad went to one first and encouraged her to give it a try. She remembers her first day at Thompson in 2021 and how nervous she was, but once she started driving she realized how much fun it was. The track environment can be intimidating in the beginning, but Brianna's fears soon dissipated because "…being at the track is an awesome experience and everyone there wants to see you do well and see you have a good time." "I never once felt like I didn't belong at the track; everyone welcomed me with open arms and was excited to teach me both on and off the track." At first, Brianna's mom wasn't a big fan but as Brianna became more comfortable with her skills on the track, her mom grew to appreciate the father/daughter experience, and grew more comfortable too. By the end of the 2021 season, Jeff decided to purchase a dedicated track car. So they bought a 1999 911 (996). Brianna drove it at Thompson, and plans to drive at Watkins Glen, Palmer, and Club Motorsports in 2022. She drove a few sessions in the solo (Blue) run group at Thompson, and is hoping to get to be promoted soon.
Growing up in Milford, MA Brianna was on 3 Varsity teams, playing volleyball, basketball and lacrosse. She went on to attend the University of Rhode Island, where she earned a BS in Kinesiology and a Minor in Psychology. After a year interning as a Physical Therapy aide, she has just begun graduate studies at the University of Vermont in the Doctor of Physical Therapy program. At 23, she will be a busy student, that's for sure, but she will still find a way to fit driving with her dad into her busy schedule. See you soon, Brianna!