NCR Autocross #5 & #6 - September 16, 2006
End of Autocross Season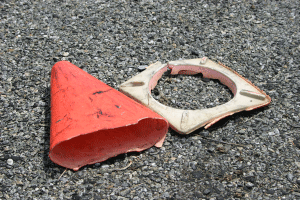 photograph by Sigrid Schnoerr
by Joe Kraetsch, NCR Autocross Chair
The 2006 NCR autocross series ended on September 16th with a grand finale of two events in one day. Earlier this season we had to cancel Autocross #2 due to heavy rains and flooding. No makeup dates were available so rather than just drop one autocross, we decided to run two autocrosses in one day—all for the price of a single autocross.
Midweek prior to the event, the forecast looked like heavy rain, but by Friday the weather people changed their minds and promised us a dry day. Not only was it dry, but turned out to be a beautiful sunny day. We had a good turnout with 55 registered drivers.
We ran Autocross #5 in the morning as scheduled. Guest course designer, Paul Zahornasky (aka PZ) set a wonderful course for us. PZ is the chief course design for SCCA's Northeast Region and has designed courses for SCCA National Events. I learned most of what I know about course design from PZ. Everyone had four runs on the morning course. Class 1 was a close race between Mark Schnoerr and Chris Darminio but Mark edged Chris by 0.397 seconds on their final runs. Class 2 was also a tight race until Dave Porter's final run. Not only did he take my lead away but he smoked me by over two seconds. Guest instructor, Russ Siggelkoe took FTD by 0.035 seconds and top PAX by 0.029 seconds over Paul Kozlak who had the fastest Porsche time.
We shut down briefly while PZ quickly changed the course. He moved a fraction of the cones and created a new course that looked like the first course but was significantly different. We allowed folks to walk the course once to see the changes while I set up the timing for the afternoon Autocross #6. Those who chose not to walk the new course paid for it with off course runs and slower times.
Close races in this session included Class 4 where Dave Beningson bested Neil Halbert by 0.122 seconds. I might have repaid Dave Porter's morning thrashing but my best time included a two second cone penalty and fell 0.65 seconds short. (I'll get him at the Zone 1 Autocross in October.) Steve Hazard took FTD and top PAX while Charles Stromeyer had fastest Porsche time.
The autocross double header was a fun way to end the season. I heard a lot of positive feedback about the events and the courses. Thank you, Paul Zahornasky for two excellent courses in one day. Thank you, Porsche of Nashua for your sponsorship. I would also like to thank the autocross staff for all their hard work throughout the season, and everyone who came out and participated in our autocross events.
We are already planning our 2007 autocross season. We have a much better schedule next year. I would appreciate any feedback and suggestions to make next year even better. I am also looking for a couple volunteers to add to the autocross staff. If you would like to help out, please contact me at autocross@ncr-pca.org.