Autocross Re-opening Soon!
North Country Region - PCA
Club Motorsports - Revised September Event
Details

Last Updated: 07 August 2020

07 August 2020
We going back to Club Motorsports next month!
You can register for the two day solo drivers only event at this link.
For those of you that participanted in the July event, you will be pleased to know that we will be duplicating that event - except for the high temperatures.
If you were registered for the original September event that was cancelled you must register again for this event. We apologize for the extra work, but it is the simplest way to change the event.
We look forward to joining you for a safe, social distanced event. Register using the button below.

Charity Raffle
Details

Last Updated: 30 July 2020

30 July 2020
Due to COVID-19 and the cancellation of NCR's charity events, NCR is holding a raffle with the proceeds going to Make-A-Wish NH. The prize is a 6V battery powered Porsche Macan Kids Ride on car!
Contact charity@ncr-pca.org with your questions.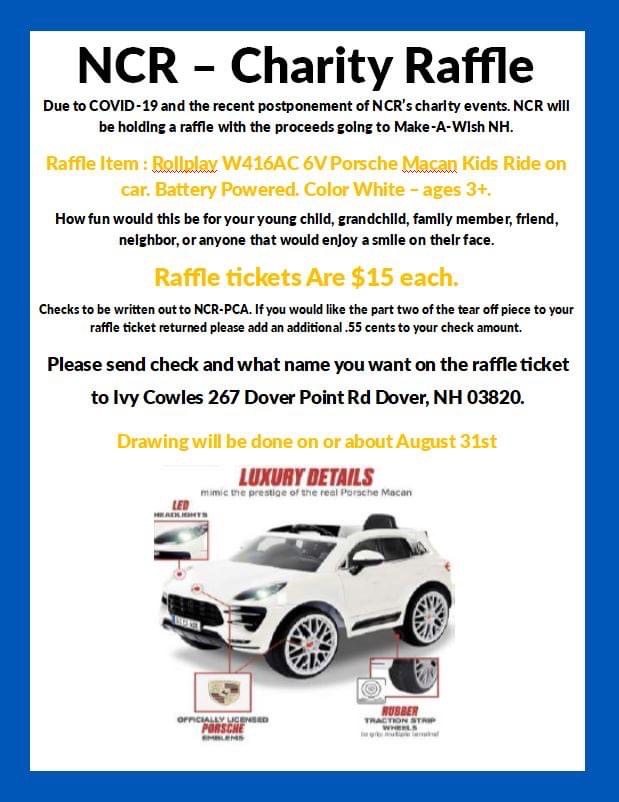 Food Banks
Details

Last Updated: 30 April 2020

30 April 2020
A motion was approved during April's Board Meeting to immediately donate $2000 to Loaves and Fishes.
It was also recommended that members donate or provide other assistance to their local food banks. The Barrington Food Bank was identified by one of the members as having immediate needs.
You can find your local New Hampshire foodbank at this link. If you have a favorite that's not on the list, please email the information to our Chairy Chair.