Driver's Education Team
Select the image for their contact information
Pam and Dennis Mascetta - Operations Manager
Lisa Roche and Joe Kraetsch - On Site Registrars
If calling please do so BEFORE 9:30pm
Send general DE questions/comments to DE Chair
2018 Events
Select Host Column entry to go to the registration sites.
March 3 HMS NER Ground School
April 20-22 NHMS
NCR
Season Opener
April 21 NHMS
NCR
Car Control Clinic
May 18-20 Watkins Glen
Zone 1
48 Hours at the Glen
May 25-27 Thompson NER

June 25&26 Limerock NCR Limerock Fun Days; Paddock Party
July 4-7 Mt Tremblant NER/NNJR
August 10-12 WGI NER/NNJR
August 14-16 Calabogie NER/NNJR
September 6-8 Club Motorsports NCR
September 21-23 Palmer NER
October 6&7 NHMS NCR Spring is a Long Time Coming; Make-A-Wish
2018 Driver's Education Promotions
Details

Published: 08 February 2018

08 February 2018

Hits: 111

111
We've put together a few promotions for the 2018 season. Registration opens at Motorsportsreg.com on March 1st.
First Timers
Did you see Jeff Torrey's "Spring is a Long Time Coming" article in the November-December Northlander? He was a first timer last fall and for those of you that are considering driving your Porsche on the track, Jeff's words might have a ring of familiarity to them.
This spring the Driver's Education Team at NCR is looking for a few more First Timers. If you have never attended one of our Driver's Education events we are discounting your event fee by 50 percent when you register for your first event.
Come on out and see if you enjoy it as much as Jeff did.
Are you feeling lucky?
We are adding an incentive for those of you that use these cold, dark days of winter to plan where you will spend the bright, light days of spring, summer and fall. Anyone that registers for our Spring Opener on March 1st will be entered into a drawing to be held at the drivers meeting at NHMS on April 21st. One driver's name will be drawn from a helmet. That individual will attend the event free.
Let's repeat that. Register for our Spring Opener on March 1st, attend the drivers meeting, have your name drawn from the helmet, you attend the event for free!
All In
Every one that registers for and attends all the days of our events in 2018 will receive a 10 percent discount. As the schedule below shows, that's a free day at the track in 2018.
What's New at North Country Driver's Education
Details

Published: 01 February 2018

01 February 2018

Hits: 131

131
Greetings from frozen New Hampshire. This month we look forward to the 2018 events and list some of the changes that you will see in the North Country Driver's Education Program.
This first welcome change is that all our events in New Hampshire will be on the weekend. That's right no more trying to get those Tuesdays and Wednesdays cleared from the calendar. The Limerock Park event stays on the traditional Monday and Tuesday at the End of June. Here is a summary of each of our events. We will be sending out addition details and registration information over the next few weeks.
Not Just Another Woman Driver ...
Details

Published: 01 February 2018

01 February 2018

Hits: 176

176
I have always loved to drive, beginning with my little red pedal car when I was 5. My love affair with Porsche began in my late teens. A friend of mine had an adorable 911 he called "The Silver Bullet". I loved the way it sounded, the way it smelled and the way it felt out on the road. One day we were zipping around when we came up behind a very slow Cadillac on a wide exit ramp. He said "Hang on!" and neatly proceeded to execute a pass. I was momentarily terrified but thrilled at the same time.
Passing the Torch
Details

Published: 19 January 2018

19 January 2018

Hits: 78

78
I bought my first Porsche in 1987, a black 944. I flogged it around the streets and canyons of southern California for a year, then traded it in on a mortgage, our first child, and a used Honda Accord.
Twenty years later, in 2007, I bought my second Porsche, a black 2000 Boxster S. A friend said "you should take it to the track." I said, "The track? Really!?" In 2008, I joined NCR, and did a car control clinic and my first track day at New Hampshire Motor Speedway. I have been sliding down the slippery slope ever since. For the last 10 years, driving on the track has been my passion – at Driver's Educarion (DE) events and PCA club races.
During that time, I have driven 15 tracks, met some great friends, shared many track events with our four kids, and now share nearly every event with my wife Mary, who also loves to drive and instruct. The Boxster has turned into a full race car, and our second Porsche, a 2002 996, will soon be a full race car.
Spring is a long time coming
Details

Published: 22 January 2018

22 January 2018

Hits: 265

265
This past October I decided it was time for me to spend a day driving at an NCR DE event. I had done the Car Control Clinic, and the Charity Laps for Make-a-Wish. Those experiences were nothing but positive, so I decided to give it a try.
From a distance the DE program looked to me like a place for "race car drivers". Folks that wanted to take their car out and thrash it around the track. So I was a bit intimidated. Not trusting myself with my car at high speeds, not trusting my reflexes with such an expensive car. A car that I enjoy driving in its "present condition". I had signed up for the Monday driving and watched the weather. As luck would have it Monday proved to be a rain day. In my mind I flip flopped back and forth. Should I cancel, or should I go anyway. If I cancel there are no refunds. But if I lose traction in the rain and smash my car, that would prove to be a huge loss. Crashing my car was the last thing I would want to happen. Knowing many of the people who produce the DE program for NCR, I decided to go for the day in spite of the rain. I had to trust that these guys would help me avoid a crash, trust that their instruction would prevent me from having a problem on the track.
An Introduction to Driver's Education
Details

Published: 20 April 2007

20 April 2007

Hits: 346

346
Driver Education track events are intended to provide a basic foundation of knowledge which become building blocks to advancing skills as you continue with track driving.
Students are taught to drive safely around the track in a non-competitive environment under the supervision of a track instructor riding in the car.
Students can expect (and are expected) to learn the following:
How to drive the basic line of the track.
How to use turn-in cones, apex cones and track-out cones as track markers.
Braking, shifting and turning techniques and sequence for turns.
Names of turns and straights of the track and other track vocabulary
Safety
Being comfortable and having fun!!!
NCR DE Mission Statement
Details

Published: 26 April 2007

26 April 2007

Hits: 93

93
Mission Statement
The mission and purpose of North Country Region – Porsche Club of America's Driver's Education Program is to provide a safe, structured and controlled teaching and learning environment. The NCR DE Program is designed so that participants can improve their driving abilities and acquire a better understanding of vehicle dynamics and driving safety. Participants will experience first-hand the capabilities of high performance automobiles in a controlled, closed-course environment and acquire skills that will enhance safer vehicle operation in all driving situations. NCR DE events are not racing, preparation for racing, nor a competition of any kind. No times or placings are recorded, and no awards or prizes are received by the participants of NCR Driver's Education events. Any conduct considered by North Country Region to be either unsafe or inconsistent with the spirit or purpose of the NCR Driver's Education Program will not be permitted.
Car Control Clinic Information Package
Details

Published: 06 April 2016

06 April 2016

Hits: 70

70
New Hampshire Motor Speedway
INFORMATION PACKAGE

When parking for sign in at NHMS, Make sure you leave the fire lane open.
Do not park right in front of the building. Use one of the lanes to the right.
They will not let you sign in if you are blocking the fire lane.
CHECK IN
Please stop at the main gate to sign the release form required by the track. When parking please leave the fire lane open and use one of the lanes to the right. Once you have gotten your wrist band you enter through the gate. As you pass through the entrance the lot is located down to the right hand side. The Car Control Clinic (CCC) is being held in Parking Lot S1 which is on your right. Please check in with the CCC Chair when you arrive at the lot.
Anatomy of a Corner
Details

Published: 20 April 2007

20 April 2007

Hits: 272

272
Anatomy of a Corner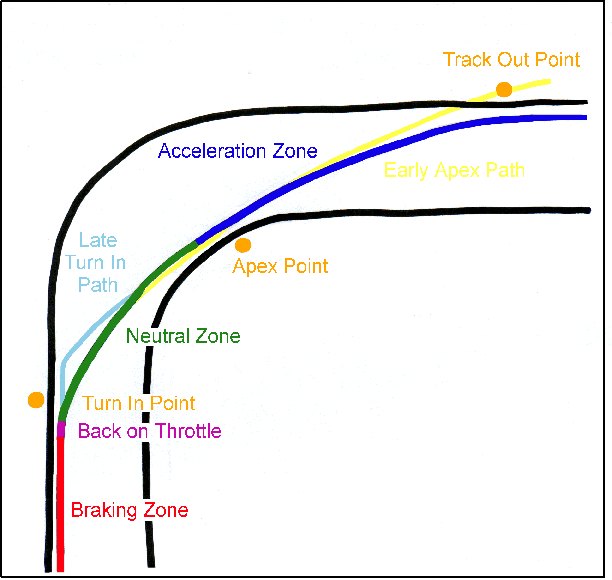 The diagram above shows the ideal line for the curve. The basic parts of the turn are lift, brake, off-brake, turn-in, neutral throttle, apex, acceleration and track out. Picking the pieces apart; the red line shows the braking zone, find your spot to start braking and brake decisively (downshifting if necessary), in the purple zone get off the brake and gently back on the throttle and turn in at the appropriate point. A slightly late turn-in is safer than early.
The light blue line indicates a late turn in which requires a much slower entry speed to negotiate the corner, note the sharp angle of turn in. The green zone is the balance zone or neutral zone. You should get back on the throttle at this point and squeeze on the power slowly as you pass the apex. Where you pass the apex is crucial, the best practice is to be very accurate and consistent. Again, a late apex is safer than an early apex. Note the yellow path, this indicates an early apex and shows where your car could end up, out of pavement on the exit, not the most desirable place on the track.
Continue through the corner, applying more power and tracking out to use the entire track surface. Now you can setup for the next corner and start the process again. Your instructor will show you the proper line for each corner.

Remember that the car will go where your eyes are looking, it is important to "look through the corner" and think ahead. Driving the track is not just a series of corners to be negotiated one at a time, but a smooth and rhythmical "line" throughout.
40 Years of fun!