The September Rally is Open for Registration!!
Porsche Club of America

North Country Region
| | |
| --- | --- |
| North Country News | August 2022 |
Hi Visitor,

As we all know, NCR Rallies book up fast, and the Magical Mystery Tour is now closed for registration. The good news is there are plenty of slots still available for the September Fall Get-A-Way to the Catskills, the Gunks, and historic Hyde Park.So check your schedule, then click below to get details. Sign up now to avoid disappointment.
Fall Get-A-Way to the Catskills, the Gunks, and historic Hyde Park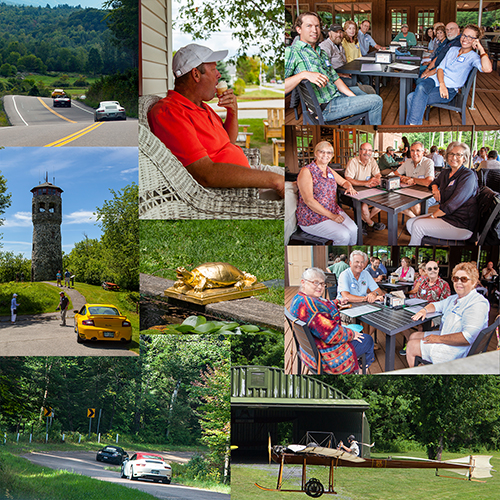 The NCR Fall Get-A-Way Weekend for 2019 will take us to the Catskill Region of New York, traveling sinuous roads of its namesake mountains and nearby Shawangunk Mountains (The Gunks). The Catskills are famous for highly rated sport fishing, and our route over low-traffic roads offers twists and turns alongside renowned trout streams. The Gunks are famous in their own right as offering well-regarded rock-climbing challenges that are not for the faint of heart. After our Sunday drive and lunch, you are free to take a direct route to Hyde Park where National Historic Sites, including (i) the Estate of Franklin Deleano Rosevelt, (ii) the Vanderbilt Mansion, and (iii) Val-Kill, Eleanor Roosevelt's hideaway and later residence, are venues available for your exploration.
Click here for more information and to register for the NCR Fall Get-A-Way Weekend
Make A Wish Car Show

Do you enjoy showing off your favorite car? Then sign up for the Make A Wish Car Show on August 4th. The show will benefit the Make A Wish Foundation and is being held in conjunction with the Seacoast Cars and Coffee monthly car show. If you don't like showing your car, you can go and browse the cars of people who do. And after the show, there might even be time to go grab some ice cream before you need to go mow the lawn.
These events are only successful through the efforts of our volunteers. Want to get more involved with the club and help them get the job done?
Contact volunteer@ncr-pca.org.
If you can't see this e-mail properly, view it online