NCR's April First Friday Update
If you can't see this e-mail properly,

view it online
}
NCR Newsletter Issue # 881 | Saturday, 27 February 2021
Hi Visitor,
April is almost here, and we are ready!! The oil is changed, the tire pressures are checked, and our first official event is on the calendar! The Autocross team is out of hybernation and ready to heat up some tires.
The Rally team's first event isn't until May 19th, but if you want to attend this fun event, reserve your spot now. These events fill up fast, and you don't want to miss out.
Of course, the Drivers Education team never sleeps and has had their schedule posted for a while. But if you haven't already planned your season, hop on over to their page and sign up before the slots fill up.
As always, before you put the key in the ignition and head out for your first Sunday drive of the season take a break and read this month's edition of the Northlander. I especially liked the article about Jeremy Mazzarello's iRacing competition.
Happy Spring, and remember #AprilisComing!
This month's Northlander
NCR Autocross #1
Saturday, 27 April 2019 07:00am - 05:00pm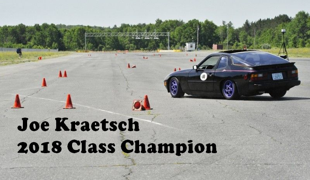 Here is another opportunity to participate in the NCR autocross series. A great chance to learn car control, compete with some friends, and have a great time. Located close by in Ayer, MA, this is the perfect chance to learn just how well your Porsche handles in a safe, controlled setting.
The event takes place at the Moore Airfield near Ayer, MA. We usually run a full loop course that is about a mile long. We have a great Novice program which includes guided course walks and instruction throughout the day. No experience is necessary!
Registration is open to any licensed driver. The cost is only $40 for PCA members, $45 for RMC members and $50 for non-members. Registration is limited to 80 entries.
Online registration is required (closes Wednesday night before the event). There will be no on-site registration.

---
Location : Moore Airfield
autocross@ncr-pca.org
Register at
http://msreg.com/2019-NCR-AX1
or
http://ncr-pca.motorsportsreg.com
Rally Event 1 -- May Meander
Sunday, 19 May 2019
Starting in Bedford (just West of Manchester), we will complete a clockwise loop that explores some of the very beautiful hills and valleys of Western New Hampshire. The route has been designed to provide an enjoyable Porsche experience and is guaranteed to keep your navigator alert to its twists and turns. The entire route is about 130 miles in length with rest stops before and after lunch. Lunch itself will be just over the border in Bellows Falls, VT at the very popular Popolo restaurant.
A walk of about 0.2 miles from Popolo restaurant east along Bridge St brings one to the Vilas Bridge (closed to vehicle traffic) where one can overlook The Bellows Falls Petroglyph Site. This Site (designated Site VT-WD-8) is an archaeological site containing panels of precontact Native American petroglyphs. Located on bedrock west of and above the Connecticut River, they depict a rarely-seen assemblage of anthropomorphic figures that is believed to be unique in New England, and uncommon even in surrounding geographic areas. The site was listed on the National Register of Historic Places in 1990. It has been suggested the Abenaki created the carvings. If the Abenaki were indeed responsible, the westward orientation of the carvings may hint at their meaning. In Abenaki folklore, a dead person's soul travels westward when it leaves the body. The faces may have been way markers, pointing the way to the afterlife. Adding to this theory, an Abenaki burial ground was found not too far from the site. Some say no one really knows.
The petroglyphs are located on the Vermont side of the Vilas bridge. Standing on the Vermont side at the end of the bridge, look over the south railing. The petroglyphs are located directly downward by the water's edge (look for yellow paint markers). Binoculars are recommended as the petroglyphs are difficult to see clearly from the bridge overlook. It is difficult and potentially dangerous to descend to the site. [Sources: Wikipedia.com; AtlasObscura.com] Further information, perhaps more authoritative, along with photos can be found at Iroquois Beadwork Blog and Obscure Vermont.
Starting Location:
Hannaford Supermarket Parking Lot
4 Jenkins Rd
Bedford, NH 03110
Schedule for May 19, 2019
Sign-in & Waivers (Mandatory): 8:30 AM
Drivers Meeting (Mandatory): 9:00 AM
Departure: 9:30 AM
Advance Registration Required. No On-Site Registration. Capacity Limits Apply.
REGISTRATION CLOSED - CAPACITY LIMIT REACHED -
Send waitlist requests to Rally@ncr-pca.org
Location : Hannaford Supermarket

It's February 1st; the days are still too short; it's too cold; and there is a limited amount of grip on the white stuff that is everywhere.
It's also opening day for NCR's Drivers Education 2019 registration and I always use this day to remind myself that winter is waining and those long hot days that require cool shirts are not far off.
This year North Country Region(NCR) will be hosting four events for a total of eight track days. The first event will be on Monday and Tuesday (July 22&23) at Lime Rock Park. The event is a few weeks later than in past years, so plan for two hot days at this historic track. Two weeks later (August 1st) we will visit New Hampshire Motor Speedway for a mid week single day event that will provide those of you running older Porsches track time separate from those new and improved models. We will wrap up our 2019 season with two events at Club Motorsports in Tamworth. The first visit will be a three day event (Friday is for advanced drivers only) just after Labor Day weekend (September 6-8) and we will finish our season with two days at Club Motorsports with all it's colorful folliage (don't forget to make those hotel reservations early) on October 19&20).

For those of you that are considering attending your first event, we offer 50 percent discount for that event. We also recommend that you attend the Ground School Event at HMS on March 9th and the Novice Day at Thompson Motorsports Parking on May 25th. These events are hosted by the Northeast Region (registration information at this link)


Visit MotorSportReg.Com now to register for NCR's 2019 Drivers Education events
DON"T FORGET THE GOODIE STORE!
More than 40!
There are more than forty events in our calendar
and we will be adding more events during the year.
If you don't want to receive our news anymore,

unsubscribe