Rallies and Rambles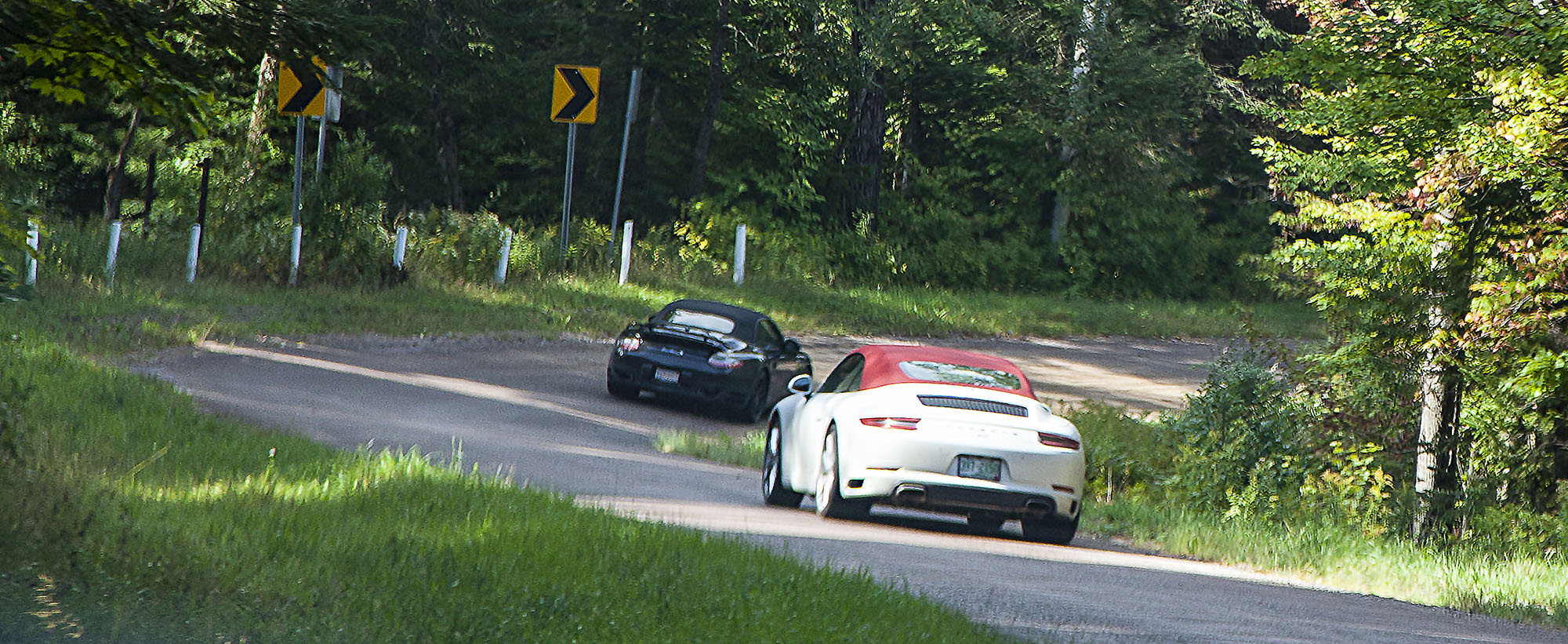 Like other North Country programs, Rally offers Porsche owners opportunities to enjoy their cars with like-minded members. Rally events are conducted in a relaxed manner on public roads, so they offer an almost endless variety of sights and driving experiences. Don't be fooled; we seek out … and find … the twistiest, curviest, most sinuous roads that lead us to destinations of interest. Beyond the joy of driving, we offer opportunities to socialize over meals with friends from diverse backgrounds sharing common interests. Indeed, the diversity of interests amongst participants virtually guarantees enjoyment greatly supplementing that achieved on the road.
No experience necessary, but you must be 18-years or older to drive in a Rally Event.
Please review the Driving Tour Minimum Standards at this link.
FAQ's
Check out some commonly asked questions in our Rally FAQ.
Rally Tour Events
We currently host six Rally Tours per year:
Early Spring with a one-day event to get us warmed up.

Spring GetAway for three days and two nights.

Early Summer Adventure.

Summer Adventure.

Early Fall GetAway, three days and two nights.

We close out the season with our fall foliage rally tour.

One Day Rally Tour:
Morning Break, lunch around 1 pm with about 100 miles of driving.
GetAway Weekends:
First night welcome dinner, following day rally tour, morning break, lunch around 1 pm with about 100
miles of driving. Celebration dinner on second night, depart for home following day.

Rally Team
Rally Chair

Dean Laughy

Social Chair

Bill Meyer

Rally Meisters

Harv and Doreen Ames

Rally Meisters

Bill and Kathy White
Contact the Rally Team at rally@ncr-pca.org
Please feel free to contact us any time. If you are new to the group and have questions, just give us a shout via email. We are happy to help get you involved. If you have any ideas for an event or a place you would like to go with the Club, let us know.
Most of the rallies will include a meal, giving everyone the chance to chat and share experiences. We are looking forward to meeting you and spending time driving together.
Join Us for one of our currently scheduled adventures!
Rally Tour 1 – 2023 NCR May Spring Adventure
May 06, 2023
This will be a nice tour through some of the mid and south regions in New Hampshire and Maine. We will start in Boscawen at the Market Basket. Here we will gather and sign in for our journey to the Maine coast.
We will work our way from here past the big lake through the Ossipee Mountains onto the border with Maine. Here we will travel through the Shapleigh areas and on to Sanford while headed towards the southern coast of Maine.
Here we will have lunch at one of the famous local seafood restaurants, (details being finalized). We have about 3 hours of drive time, 120 miles, arriving for lunch just before 1 pm. This should provide time to explore the local area and enjoy the early season on the coast of Maine.
Rally Tour 2 – NCR Spring GetAway, Historic Inn Tour
June 3-4-5, 2023
This GetAway is two-night travel adventure focused on the local areas we will be staying at. We will have a little lighter drive day between our stays. We will start on Saturday June 03, 2023 in Hanover, New Hampshire. We will be staying at the Hanover Inn located right in the town across from the Dartmouth College green. We will be having dinner right at the inn in the pine restaurant. Next we will travel, the long way to the Woodstock Inn in Woodstock Vermont for our second night stay. We plan to arrive early allowing more time in this local area and the chance to visit the billings Museum.
Saturday, June 03, 2023
Hanover Inn, Two East Wheelock, Hanover, New Hampshire 03755
Overlooking the scenic Dartmouth College green in Hanover, New Hampshire, the Hanover Inn Dartmouth invites visitors to a historic boutique hotel experience in the Upper Valley. The inn was built as a tavern in 1780 and converted to a hotel in 1901, an incredible 243 years of operations. New England charm pairs with an array of modern services and amenities to create an unforgettable stay for business
and leisure guests. Located next to the Hopkins Center for the Arts and the Hood Museum, the Hanover Inn Dartmouth is the only boutique hotel on the Dartmouth College campus, and offers easy access to the region's best outdoor activities and cultural attractions. Guests rest easy at the hotel with 108 guestrooms and suites that beckon both the business and leisure travelers alike.
Please m
Details

Last Updated: 30 March 2023

30 March 2023

Hits: 2

2
2022 Foliage Run Photos
Colorful leaves! Colorful cars! Colorful people! They all came together for our Foliage Run Through the Northand. Click on a thumbnail to see all the photos!
Details

Last Updated: 24 March 2023

24 March 2023

Hits: 93

93
Adirondack Fall Getaway Rally Photos
Judging by the photos, it looks like the Adirondack Fall Getaway was one to remember. Stunning scenery, a little history, nice cars - and most importantly - great people!

Details

Last Updated: 24 March 2023

24 March 2023

Hits: 82

82
Rally & Tour Photos
Be sure to check out the photo galleries from our recent Rallies & Tours!

Details

Last Updated: 30 March 2023

30 March 2023

Hits: 157

157