Factory Five (Cobra Factory)Tour Sept 2012
Details

Published: 13 September 2012

13 September 2012

Last Updated: 23 August 2017

23 August 2017

Hits: 95

95
When
: September 15, 2012 10:30AM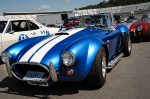 Where: Factory Five HQ, 9 Tow Road, Wareham, MA
What: See how Cobra replica kit cars are built, along with kits for a 33 Ford Coupe, Cobra Coupe and Super Coupe. Get an inside look at Project 818.
Logistics: Meet at Factory Five about 10:15 AM. For those traveling from NH, ME, and northeast MA and wishing to travel together, meet at 8:30AM at the Chelmsford rest stop on the southbound side of Rte 495 just south of the Rte 3 interchange. Will leave there by 8:45AM.
After the tour: We will go to Dave's Diner in Middleboro, about 25 minutes north of FF on Rte.28. Address: 390 West Grove Street Middleboro, MA 02346 (508) 923-4755
They are looking for a head count so please let me know if you plan to attend.