Final DE Event for 2014
Details

Last Updated: 20 September 2014

20 September 2014

Hits: 156

156
The fall chill is already in the air and before you know it, we will be shoveling snow out of the driveway and off the roof. Before all that happens, you need to get out on the track for one final DE event and that event just happens to be on the 9th & 10th of October at New Hampshire Motor Speedway and it is appropriately named 'Spring is a Long Time Coming'. Besides all the great driving, have you ever seen the fall foliage from the track? The views are spectacular and they give you another good reason to keep your eyes up while driving…. you already know the other reason – right?
Besides the driving and everything associated with just being at the track, you have the opportunity to join your fellow drivers and friends at the Loudon Country Club to partake of hot off the smoker fresh Hickory Smoked Pork Shoulder pulled and chopped, Smoked Chicken breast shredded in BBQ Sauce and Smoked Kielbasa Chunks so moist and flavorful with a variety of your favorite sauces. Also enjoy Baked Beans, Red Skin Potato Salad, Cole Slaw and Cornbread, too. Look at that picture for what will be in the smoker and soon thereafter on your plate.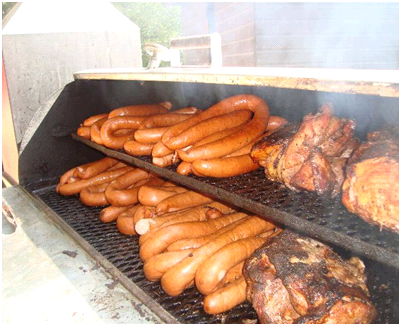 This is North Country's final DE event of the 2014 season and we want to finish the season with one final fantastic event. Please come join us and help make the event a success.
Go to motorsportreg.com to register for the driving portion of the event and be sure to sign up soon for the track dinner! If you are already registered for the event, but missed the dinner option and would like to signup now, contact John at Chrisjohn@innevei.com and he will sign you up. We need a final dinner count several days in advance of the event to make sure we order enough food.
Looking forward to seeing you at the track!
Mark