Black and Red Run Group Drivers
Details

Last Updated: 20 April 2014

20 April 2014
Black and Red Run Group Drivers: Help us Instruct at the Car Control Clinic
We will be holding annual Car Control Clinic Saturday, May 10th at New Hampshire Motor Speedway. We invite all Black Run Group driver to help by instructing. Instructors are also welcome.

If you are interested please email Dave Logan (CCC@ncr-pca.org) or call 781-367-3592. For more information on the CCC see below.
Saturday, May10th, 201, North Country Region will hold a car control clinic on the parking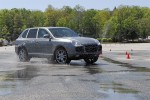 lot of New Hampshire Motor Speedway from 10:00 AM - 3:00 PM with a noon pizza party hosted by NCR.
The Car Control Clinic (CCC) is a non-competitive event intended to allow drivers to experience the attributes of car control at and beyond the limit, in a safe and controlled environment. It helps drivers improve their driving skills while learning about car dynamics. The CCC serves a dual purpose in that it prepares students for Autocross and Driver Education events plus it teaches skills useful in everyday driving situations. The CCC is held in a large parking lot at New Hampshire Motor Speedway, using plastic cones, to provide a safe learning environment for these low-to-moderate-speed maneuvers.
Take a look at last year's event.
This clinic is designed for all drivers, including ages 16 & 17, with a valid driver's license and parental consent (sorry, no driver permits). The intent of the clinic is to help drivers become safer and more confident through knowledge and experience
The clinic will cover the following:
Lecture Topics
Seating position
Hand position
Vision
Mental preparation
Car dynamics & theory
Car maintenance check
Driving Exercises
Skidpad
Emergency Braking
Slalom/Swerve
Each student will get in-car instruction from an experienced NCR instructor.
The emphasis of this clinic is car control, not racing or competition. In that spirit, most car makes and models will be allowed to participate. No trucks, SUVs, (Cayennes excepted) or vans allowed. If you are uncertain, please email the event Chairmen beforehand, their decision will be final. The event is limited to 30 students.
Note: Car numbers are not required for this event.
Registration Procedure
Registration is open at this time. The registration fee is $60. Registration will be handled online via the MotorsportReg Online Driving Event Registration website (www.Motorsportreg.com). If you do not have an account, you will need to create one. This single account will allow you to register for PCA and other car club events
If you are between the ages of 16-18, please print out the this form, have parent and student sign it, and bring it the morning of the event. Without this form, you will not be allowed to drive and there will be no refund.