A COVID-19 update from NCR Drivers Education
You all have received emails this week about business and government mandated closings. Unfortunately this has affected our season opening event at Lime Rock Park. We have cancelled this event in light of current and projected conditions for the safety of our participants and volunteers.
The rest of our scheduled events will be dealt with as things continue to unfold. If you have paid for any of our Driver Education events and they get cancelled you will receive a full refund.
Stay safe!
DE Chair
North Country usually puts on one or more Car Shows a year. While there may sometimes be judged classes, our shows are more often low key People's Choice gatherings where we can all enjoy the cars and camaraderie without the stress of heavy competition.
See below for a tutorial on the many types of Concours and Car Shows, our current schedule of events and detailed information and registration forms for those events.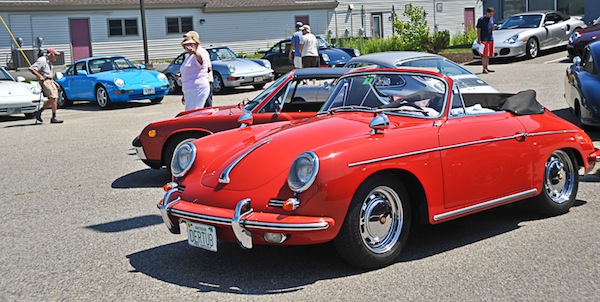 2018 NCR Make A Wish NH Car Show Results
Details

Hits: 6

6
ENTRANT CAR CLUB PLACE
Harry Robinson Award (Chosen by our Sponsor – Porsche of Stratham)
Jeff Sullivan 1986 911 Targa NCR
People's Choice
Dan & Jean Witmer 1989 Autocraft Cobra
Mk IV, Blue NCR
CLASS: 1960's Porsches
Jeff Clarke 1962 356 B Cabriolet CVR 1st
Peter Rice 1968 912 NCR
CLASS: 1970's Porsches
David McLaughlin 1970 914-6, Yellow 1st
Bob Kivela 1978 930 NCR
CLASS: 1980's Porsches
Tony Parente 1984 911 3.2 Turbo Look 1st
Doug Pomeroy 1986 930 Turbo NCR 2nd
Bill & Penny Meyer 1986 911 Targa,
Guards Red NCR 3rd
Kevin Simmons 1983 911 SC Cabriolet NCR
John Cavanagh 1986 911 Cabriolet NCR
Jeff Sullivan 1986 911 Targa NCR
CLASS: 1990's Porsches
Hank & Ivy Cowles 1993 911 RS America,
Guards Red NCR 1st
Judy Hendrickson 1995 911 C2, Riviera Blue NCR
Dick Demaine 1990 944 S2 Cabriolet NCR
CLASS: 2000's Porsches
Chuck Rudinsky 2005 911 Carrera S NCR 1st
George Burnet 2006 911 C2S NCR 2nd
Jeremy Keohane 2008 911 C2 NER 3rd
Bob Cairns 2007 911 Turbo NCR
Chris Ferreira 2008 911 C4S
Jeremy Keohane 2002 911 C2 NER
CLASS: 2010's Porsches
Gary Smith 2018 GT3 NCR 1st
Joe Byrne 2011 Boxster Spyder NCR 2nd
Tom Greene 2016 Cayman GT 4 NER 3rd
Jeff Sullivan 2016 Cayman GT4 NCR
David Doran 2013 911 C4, Blue NCR
Gene Lyras 2013 911 CS NCR
CLASS: American
Stephen Allen 1963 Corvair, White NCR 1st
Dan & Jean Witmer 1989 Autocraft Cobra
Mk IV, Blue NCR 2nd
Dave Dion 2006 Ford GT, Red NCR 3rd
Chris 2016 Dodge Hellcat
Victoria Dewitt 2013 Jeep Wrangler
Ryan Paradis 1974 Corvette Stingray,
Black
Peter Hubbard 2018 Mustang GT
Tony Legault 1993 Honda Nighthawk
Rob Daigle 2013 Jeep Wrangler
Rene Van Oosten 2006 Pontiac Solstice
Chris Tucker 2015 Scion TC RS 9.0 Seacoast
Cars & Coffee
Robert Niven 2017 Acura NSX, Blue
Scott Mitchell 2014 Jeep Wrangler
Nick Smotle 1984 Cadillac Fleetwood
CLASS: Italian
Chris 2016 Lamborghini 1st
Aventador SV
CLASS: Other Than Porsche-German
Kristen Allen 1963 VW Beetle, Red NCR 1st
Zane Melillo 2009 Audi S5
Crispin Grant 2013 Audi RS5