2016 Autocross Season Begins… a sure sign of Spring!
Details

Written by Ed Moschella

Ed Moschella

Last Updated: 09 April 2021

09 April 2021
Every year between April and May the NCR autocross community comes together to celebrate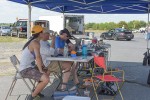 spring's arrival with new and renewed competition, rivalries and friendships at Moore Army Airfield in Ayer, Massachusetts, home of NCR autocross. This year's six event series begins Sunday, May 15 and ends with the season finale on Saturday, October 8.
Every season brings new challenges in the form of new cars, changes in rules and classes, and new competitors. This season many competitors are curious to see how the new GT4 will perform and how classes will change to accommodate the newest line of Porsches. This article is intended to provide NCR members with a basic understanding of NCR's autocross series and hopefully to attract new participants who may be looking for an opportunity to drive their Porsche in a manner for which it is intended.
Autocross is a motorsports event where participants navigate a driving course consisting of multiple challenging features that test driver skills and vehicle capabilities in a safe, controlled and competitive environment. The course is designed and built by NCR's team of course designers and changes with each event. Each course is marked off with small orange traffic cones using the runways and taxiways at the former Fort Devens airfield, which is spacious enough to allow designers to create courses that typically average 1.25 miles in length. Typical course times range from 60 to 90 seconds. The object of the event is to drive the course in the shortest time possible without incurring penalties for knocking down cones or wandering off course. It is a competitive event but each car runs solo against the clock so it is not wheel to wheel racing as you might see at a road race or NASCAR event. Drivers are grouped in classes designed to match similarly performing cars, derived from the Porsche Club of America's Competition Rules and adjusted locally to reflect the variety of cars that typically participate. Additionally, NCR uses a handicap system based on the Sports Car Club of America's PAX system to further level the playing field and minimize any advantage between different makes and models. Though autocrossing is a competitive event it is also a great opportunity to develop driving skills and test the limits of our vehicles' performance. Many members enjoy the friendships and camaraderie that develop from competition and rivalries.
To be successful at autocrossing participants must navigate the course in the most efficient manner to finish in the quickest time possible. It's a fast sport but it is not just about driving fast. There are three basic driving skills one needs to be a successful autocrosser: go fast in the fast places, slow in the slow places, and turn at the turns. The basic skills are not too difficult to master; knowing where to use each skill is the challenge! NCR provides instructors to help newcomers and novices develop the skills needed to make auto crossing fun and safe. Additionally, the club provides a novice course walk at the beginning of each event to help new participants learn how to "read" the course and find their way around the sea of cones. There are minimal safety requirements for drivers but an approved helmet is required for all participants. Current rules call for a DOT approved helmet with a Snell "SA" or 'M" rating (automotive or motorcycle helmet) dated 2005, 2010, or 2015. The club has loaner helmets available so first timers can try auto crossing without the expense of a helmet (though NCR's helmet rules are liberal, it's advisable to purchase the most current automotive rated helmet if regular participation is in your future).
Preparing for an event is not difficult. For drivers, in addition to the helmet, closed toe shoes are mandatory. There are some common sense considerations that will make your day more enjoyable. Weather is very changeable. It's wise to dress in layers to accommodate temperature differences throughout the day. Autocrossing is conducted rain or shine so wet weather gear can mean the difference between staying dry or getting wet. Seasonal comfort items (bug spray, sunscreen, lip balm. hat, gloves, sunglasses, etc…) can go a long way in making your day more enjoyable. In addition to driving, all participants spend half the time working on the course, so comfortable shoes are useful. A small cooler with non-alcoholic beverages will keep you hydrated and snacks will keep your glucose levels up. Competitive driving is a cerebral activity and your brain requires adequate hydration and stable glucose levels to function optimally. For more experienced drivers, ever notice that your performance tapers off as the day goes on? Consider hydration and nutrition as important as tire pressures! Car preparation is not complicated and no specialized equipment is necessary to begin participating. For street driven cars, if your car currently meets state safety inspection requirements and your car is properly maintained, you're almost ready! At the beginning of each event all cars must go through technical inspection where things like tire condition, fluid leaks, battery mounting, lug nut torque and overall vehicle safety are scrutinized. Additionally each interior must be free of anything that can become a hazard or obstacle such as floor mats, cell phones, radar detectors, toll transponders, coffee mugs, etc…
The day begins on arrival, where you check in with registration at the gate. From check in, you park your car in the paddock and prepare it for tech inspection. Once your car is unpacked and racing numbers applied, vehicles are lined up on the grid for inspection. Tech inspection is like a mini car show, where at any given event you're likely to see anything Porsche from 356s (rare but occasional participants) to the latest GT cars and nearly everything in between lined up in the grid. Inspection is followed by the drivers' meeting where rules are reviewed, run groups and work groups assigned, and information about the day is provided. The drivers' meeting is followed by the course walk and then the driving begins. Participants are divided into two run groups with each run group driving an average of ten runs per event spread out over two sessions. While one group drives, the other group works. Each group works one session and drives one session, both in the morning and afternoon. At the end of the event class winners are announced in a brief awards ceremony. Many participants usually meet at the local gathering place afterwards for some bench racing, excuse generating, recapping the days events and relaxing over food and beverages.
Autocrossing is a great way to enjoy driving your Porsche in ways you may not have thought possible. It's easy to prepare for and requires minimal expense. The NCR Autocross Committee creates fun and challenging events with the opportunity to develop and improve driving skills and build friendships with like minded Porsche enthusiasts. There is a wealth of detailed information available at the NCR and PCA websites including registration instructions. Come and join the autocross community this season!