Car Collection
If you can't see this e-mail properly,

view it online
NCR Newsletter Issue # 804 | Monday, 24 February 2020
Hi Visitor,
Get out and enjoy your Porsche.
Clyne Collection
Sunday, 22 July 2018 10:00am
Join us on Sunday, July 22, at 10 am for a tour of Richie Clyne's car collection. It consists of about 30 cars from the Richie Clyne collection from Las Vegas, NV. Cars change all the time and range from from Duesenbergs to Ford Model Ts. There is also a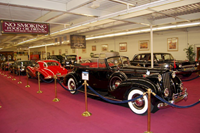 boathouse which held, the last time I was there, two beautiful classic runabouts. On the way down to the boathouse, visit the small chapel and gazebo.
The location is
105 Bay Street, Wolfeboro
. As you come up the drive, bear right and loop back to the way you came in for parking.
Please RSVP using the button below.

Location : Clyne Collection
social@ncr-pca.org
If you don't want to receive our news anymore,

unsubscribe