Yankee Swap
If you can't see this e-mail properly,

view it online

NCR Newsletter Issue # 649 | Tuesday, 20 August 2019
Hi Visitor,
It's cold and white outside; so it must be time for the
Yankee Swap
Saturday, 11 February 2017 12:00pm
Calling all NCR members and friends for our Annual Yankee-Swap Event.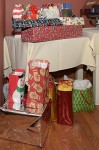 Shake off those winter blues. No driving or technical experience required. Just bring your good humor and be ready for a good time.
If you wish to take part in the swap please bring a $20 gift - for some good ole' fashion Yankee Swap fun. You can come join in for lunch as well - we will order off of the menu. We hope to see you all there! Holy Grail is close to the intersection of Routes 125 and Rte 101 about half way between Manchester NH and the seacoast.

RSVP no later than February 4th with the number of persons attending by selecting the red button above.
Location : The Holy Grail
social@ncr-pca.org
RSVP by 02/04/2017
If you don't want to receive our news anymore,

unsubscribe